Curses! Due to a TiVo crisis*, further analysis of killer fish is on hold. We watched JURASSIC PARK III instead, and, well, beyond the ALL SUBTEXT ALL THE TIME dialogue, what can you say about a nicely-structured nonstop action movie with good effects where Allesandro Nivola looks buff and flexes conspicuously? Shoutout to William H. Macy's moustache. Seriously it looks like a small mammal took up residence on his upper lip. I so hope he grew it himself.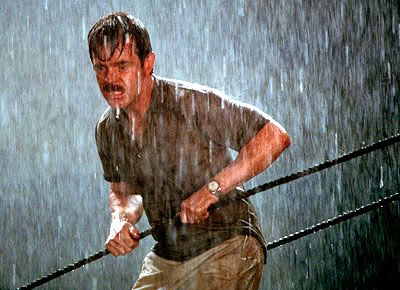 Anyway, please enjoy this MEGA PIRANHA consolation prize
interview with Tiffany
.
*Is it possible to overstuff a TiVo until older picks drop out? All of a sudden it was filled with a certain housemate's people-yelling-loudly-about-politics shows, with last week's Syfy selections nowhere to be found.
Special thanks to
Julie
for hosting, and to
Quincy
for technical support.