Pretty much what it sounds like.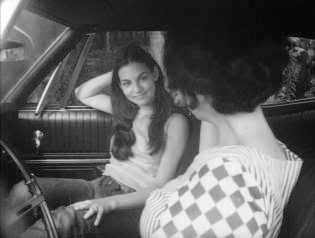 This still is from DAUGHTERS OF LESBOS, which has the best narration ever: "She was constructing a sexual pyramid."
47 minutes of just the good parts, ma'am! Filmmaker Michelle Johnson aka Triple X has lovingly assembled a grindhouse-era montage of what the Outfest blurb calls "seduction and consummation among schoolmates, cellmates, swingers, nuns and vampires." That's right! Just the naked ladies doing what feels natural, with none of the condescending, rapey tripe that usually surrounds such footage. PS the sound is amazing, especially given what Johnson had to work with.
QUIZ: SHOULD YOU WATCH THE BEST OF LEZSPLOITATION?
Check off which of these items you enjoy:
_suburban housefraus picking up hitchhiking hippie lovechildren
_proto-butches performing arbitrary - and arbitrarily naked - jail calisthenics
_nuns riding the fast train to hell (i.e. each other)
_vampire lesbians jumping out of grandfather clocks on the stroke of midnight
Why are you still reading this?
Go watch it!!!