Four wealthy BFFs yearning "to go somewhere RICH!!!" jet off to Abu Dhabi OMGWTFUAEWHY.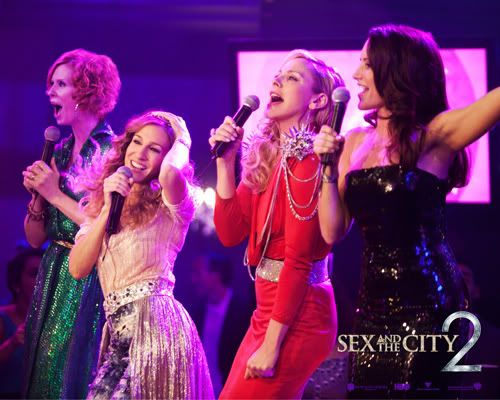 I've never taken 80 hits of acid at once, but this must be what it's like. Liza Minelli performs a jazzy version of "Single Ladies" with two doppelganger backup singers, then Sarah Jessica Parker's husband watches a lot of infomercials, and vaginal yam solvents are applied during (glass-walled) office hours. After that, each protagonist gets her very own on-call Arab to non-metaphorically warm her midnight milk. Then there is a movie-within-a-movie entitled HEART OF THE DESERT (one-sheet: shirtless white hunk cradling helpless brown child); public narghile fellation; Helen Reddy karaoke as rousing international female anthem, with belly dancers; and Ken-on-Barbie missionary touted as "sizzling hot" that appears only marginally sexier than re-grouting the bathroom. Also, the best, and sorry if this is a spoiler but it is just too astounding not to share: Muslim ladies secretly sporting this spring's couture lines beneath their abayas...in 100+ degree weather...at their Suzanne Somers book club meeting. FASHION WILL NOT BE OPPRESSED, SISTER, AND ALL'S COMPANY HERE!!!
The above are just a select few highlights, mind you. These 146 minutes are stylized within an inch of their very lives, and each moment offers new delectations of cognitive dissonance.
The only thing that could possibly make it more over the top would be to have the girls played by FTM drag queens, and to have all of the infomercial footage be Shake Weight advertisements.
If there is a god this will happen asap.