Which is why this blog has been so quiet. I've been catching up on my Scorcese and French New Wave and super-obscure high-falutin works you have never heard of because they are SUCH SUPERIOR CINEMA. Okay, truth - I've been having a big, long, embarrassing Nancy Meyers and Bravo reality tv fest. Netflix probably thinks I've been PMSing for the last fiscal quarter.
BUT! This is all about to change.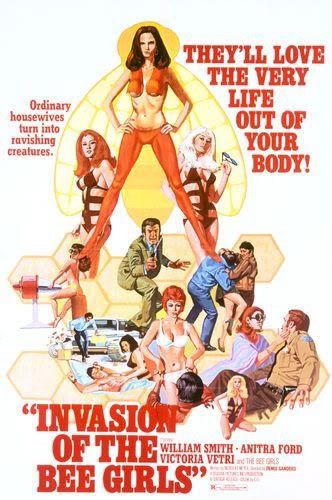 My dear friend Evan gifted me with a 50-movie, quadruple-DVD set that looks suspiciously like he bought it at a truck stop (making it even more awesome). "OVER 71 HOURS OF YOUR FAVORITE DRIVE IN CLASSICS," it says! Here is just a tiny sampling of the treats for which you and I are in store:
BEAST FROM HAUNTED CAVE
BLACK HOOKER
DAY OF THE PANTHER
INVASION OF THE BEE GIRLS
SNOWBEAST
WOMEN OF DEVIL'S ISLAND
These are a mere six of 50! FIFTY! Where to begin????